Sunday, August 27th was the Super and Blood Moon! Did you see it? Did you know it was also the Mid-Autumn Festival or Moon Festival? I learned that the Moon Festival had lots of different starting legends as well as some political flavor thrown in from China's history. I have also learned about Moon Cakes and really, really wanted to make them.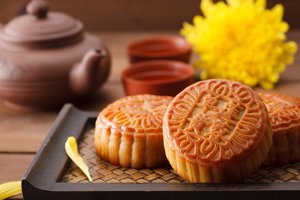 I first went online and got this press. I was ecstatic! I've always wanted to make them and I was sure I could do it. The only thing I didn't account for? Being gluten-free. Yeah. I reaffirmed myself that I could do this. How hard could it be?!
The day came and I was already a wreck. I hadn't gotten the fillings I wanted and I hadn't done any of the prep work I needed to do. Oh well. I decided if they were cakes, I could (in theory) just use a pie crust then make a solid filling. The pie crust recipe, I got from Pamela's Products website. I had tried this recipe before and knew of it's non-flexing nature, but I kept telling myself that it would work just fine. The filling was just a solid ganache. These weren't going to be too big so I wasn't really worried about the amount of ganache in the cakes. So, in my mind, this was like a chocolate pie. Got it. No.
The cakes fell apart. It was sad really. I should have taken a picture, but if you picture in your mind some rocks, then you'd have a good idea of how they turned out.
I was so sad. I was almost ready to just throw it all away, but then….. an idea!!! What do I have to lose? Nothing, that's what. I decided I would just press the pie crust with my moon cake mold and then bake the cookies. To be honest, I didn't know if this would work. I tried to keep them relatively thin, but I also needed enough dough to hold up to the press. I ended up with a big golf ball sized lump of dough. I prayed they would cook through.
I put the cookies into the oven at 350 degrees for about 25 minutes. When they came out, all seemed well, but I knew that the real triumph would be the taste test. Thinking along the lines of pie, I grabbed a jar of lemon pie filling I had and a jar of Tripleberry Jam. Yum! I'd eat the pie filling all by itself. I put a little of each in a bowl with a pie crust moon cookie and a shot of whipped cream, and then….. I handed them out.  My kids are notoriously picky eaters so I knew they weren't too bad when my kiddos asked for seconds. Success! Watching the Super Blood Moon was fantastic with our Moon Cookies!
Let this be a lesson to you! If at first you don't succeed, try something else. Haha! That way, you have a big pan of ganache in your fridge to sneak from later.